A team of Shopify experts to design and manage your online store. Turnkey service from the design of your store to the management of your sales.
Our Shopify experts will guide you through the creation of your online store to its monetization. We use the Shopify sales platform to start, manage and grow our clients' businesses. Contact one of our Shopify specialists to discuss your needs and learn more about our online sales approach. Need Facebook, Instagram or Google Ads? Need SEO experts? We've got the experts you need!
Shopify is an online store creation platform. This platform allows you to enter store data, add products and process orders. We explain you how our agency Falia, can accompany you in the creation of store just below. If you have any questions, don't hesitate to contact us here.
The Four Main Advantages Of

Shopify
The Four Main Advantages Of

Shopify
Shopify is a platform for creating online stores. This platform allows you to enter store data, add products and process orders. We explain how our agency, Falia, can help you create a store just below. If you have any questions, feel free to contact us here. 
Many beautiful and responsive themes.
A predictable amount of spending each month.
Complete support from accommodation to Pingdom security.
A fast online store launch.
Your Custom Shopify Store
Shopify offers over 70 customizable themes. Depending on your graphic design, we can customize the colors, images and style of your site. Each theme is responsive, meaning it will adapt to different types of devices to provide the best online experience for your customers. Our development team can also create a 100% custom theme for you.
Make Your WordPress Site Transactional With Shopify
Add a Shopify buy button to your existing WordPress site offering a secure and optimized shopping experience. Shopify Payments allows you to accept credit card payments instantly with no third party account required. Our Falia agency will take care of integrating the buy button from your Shopify account to your current website. A great option if you don't want to do a complete redesign of your website while jumping right into the world of online business.
Reach The Ideal Customer Profile
Our SEM agency will take care of reaching your target audience in multiple ways: SEO, Facebook advertising, Instagram advertising, Google Ads and more. Shopify's integrated blog will also allow us to write articles for you to improve your ranking in Google searches.
Multiple Sales Channels Accessible From Shopify
Shopify will automatically track orders and inventory while our agency will advertise and sell your products on various sales channels. From sharing your products on social networks to the largest marketplace Amazon. 
Have A Functional Dashboard
You will be able to get an overview of your performance. Our agency will analyze your sales and traffic from Shopify in order to suggest possible optimizations. Thanks to the mobile application, you will be able to manage your business on the go by accessing your orders, sales and inventory remotely.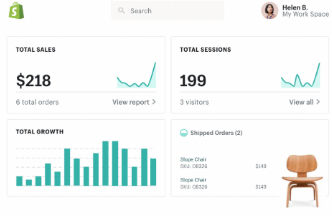 Discover Our Latest

Projects
Shack
Shack clothing offers clothing for the discovery enthusiast and for explorers who dream of going further.
See Shack's website
Schedule a 20-minute call
with a digital marketing consultant.
Our web marketing agency offers innovative approaches to B2B, B2C and eCommerce digital marketing. We provide you with exceptional technologies and resources to make your business excel on the web.
Let Falia connect your applications to Shopify with Zapier
"We have been working with Falia for the past 3 years and we continue to grow with the help of their team in the area of digital marketing. Falia generates sales opportunities for us with government, corporate and small business clients. Falia understands B2B marketing issues and has become an extension of our team over the years."
"We entrusted Falia with the redesign of our website and an SEO mandate in order to position ourselves in the first position or in the top 3 on popular keywords in the US, Canada, Australia, France and elsewhere in the world. Our WordPress website is effective in that it generates application downloads in and "leads" for our SaaS dedicated to large enterprises in a niche market."
President, White Star Software
"We have been using Falia's B2B managed digital marketing services for the past 6 years. We have access to the latest in web marketing technology as well as cutting edge expertise in SEO, SEM, conversion optimization, marketing automation, data science and more. Clearly, our investments in digital marketing are generating growth for our organization."
Director of Sales, Marketing and Customer Relations, MS Solutions
"Falia has built 2 Shopify stores for my businesses and has been managing them entirely since they went live. Falia handles Facebook and Instagram advertising, email marketing and automations, she handles social media management and even some of our customer service. I love having access to my own team at Falia to launch new campaigns easily every week."
Entrepreneur, Shack.fan and KOLL
Stay on top of what's new in digital marketing by receiving our latest articles !